What is the Wedding Posing Shot List?
Over the past 8 years we've created hundreds of luxurious posing variations with our couples. This Downloadable .PDF is for Wedding Photographers and Filmmakers and contains our Top 60 poses that we still use to this day. These types of poses make our work stand out attract us to high-paying clients in our local market.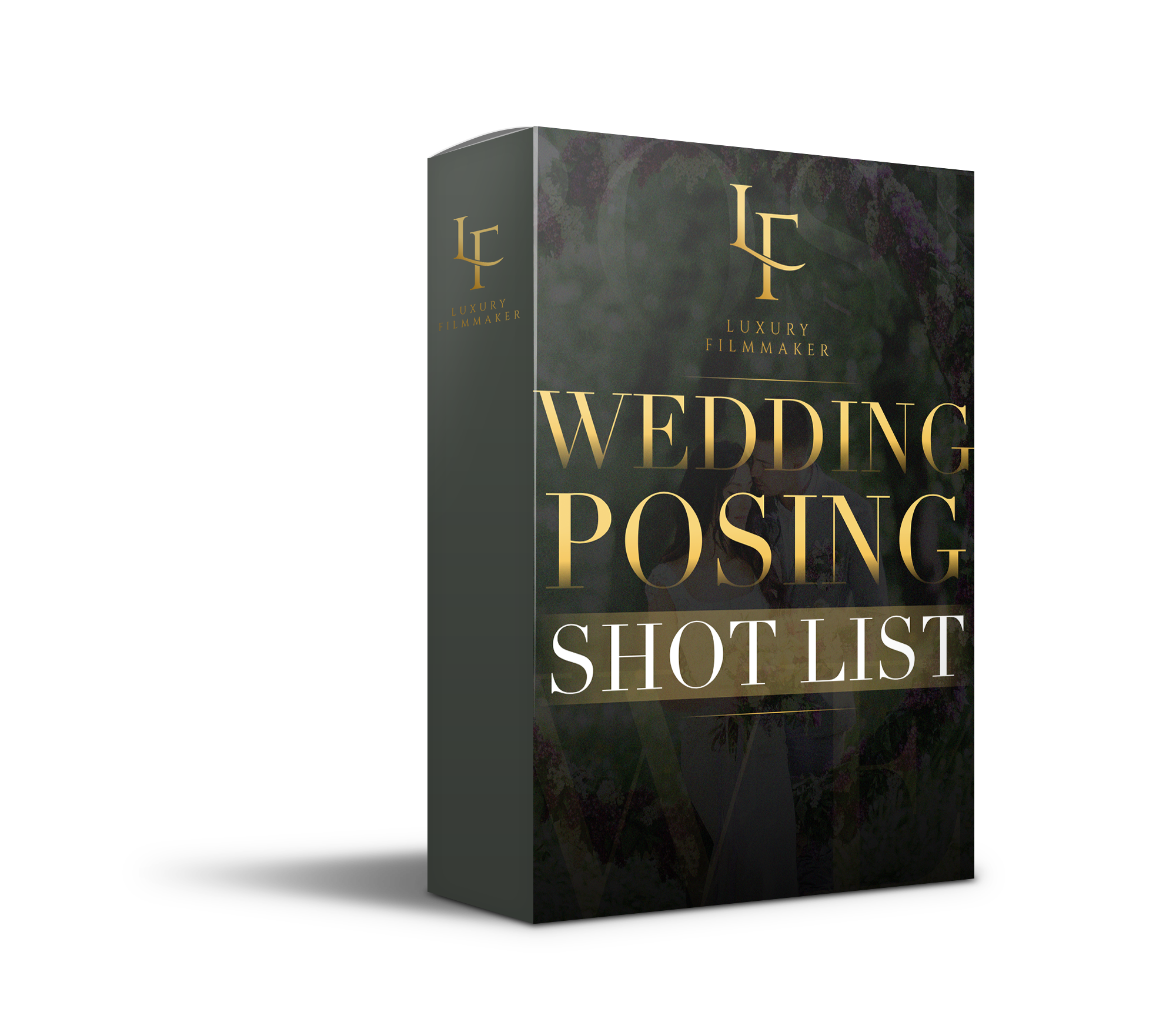 The Wedding Posing Shot List
This Downloadable PDF Booklet contains our signature poses that we are still using to this day. Photographers and Filmmakers will not only be able to put these couples into beautiful poses, but also have the ability to turn these poses into subtle movement to create natural looking shots. We've extracted and organized what has worked so well for us over the years so you can not only replicate these shots easily, but also understand how they're achieved.
Access this Downloadable .PDF Booklet on your phone and reference these poses quickly on a wedding day.
60 Elegant Wedding Poses In The Palm of Your Hand!
Bride & Groom Poses
We all fall into the same routine of poses after a while. However, what most photographers and videographers don't realize is that you can turn 1 single pose into 5 different shots without moving the couple. You just need to give the couple some minor direction. This guide will give you 22 luxurious bride and groom poses and the phrases needed to create an endless possibility of shot variations.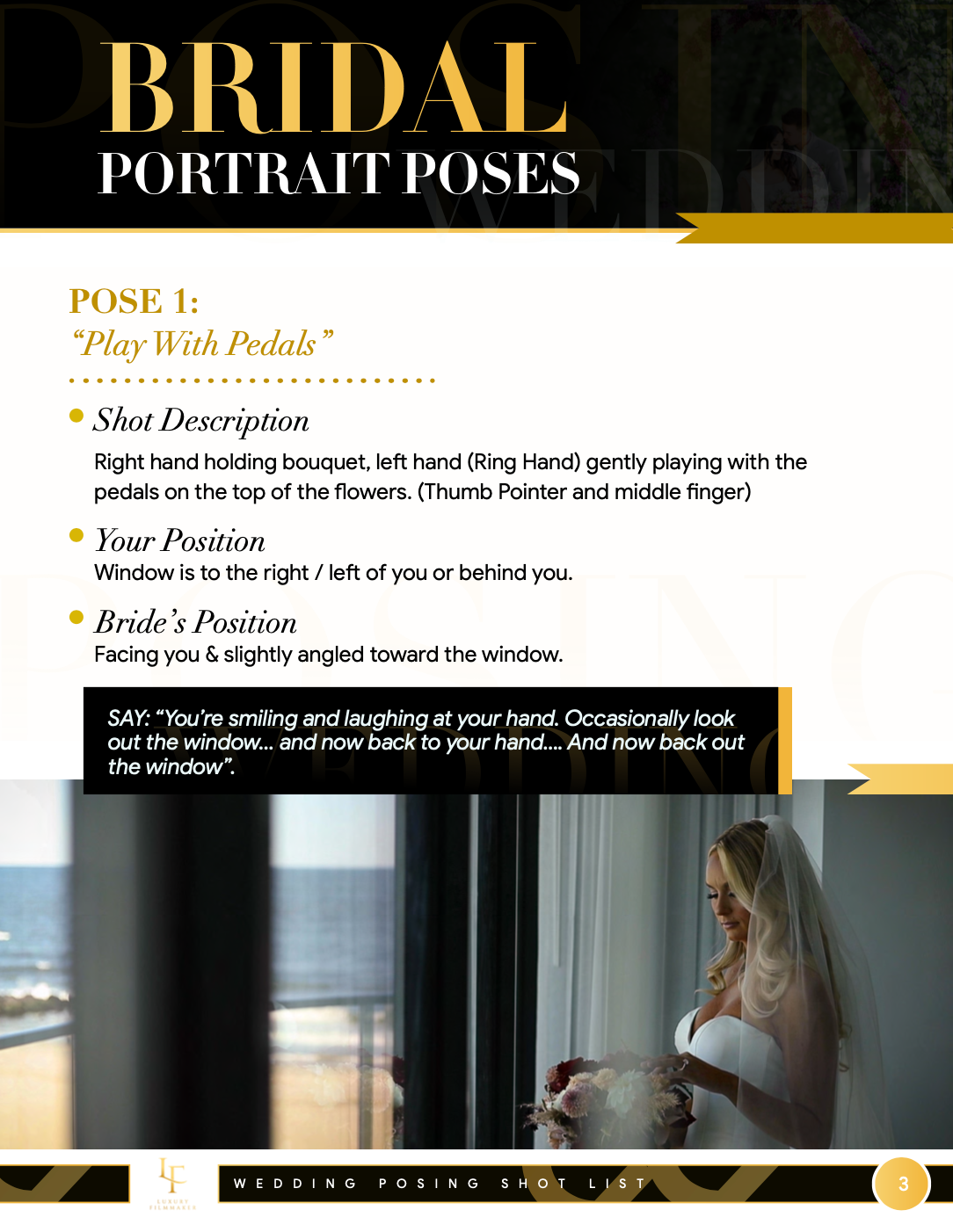 Bridal Portrait Poses
Anyone can capture an image, whether it be photo or video. However, not everyone will be able to paint a bride in an elegant and high-end manor. In order to attract higher paying clients, you have to portray what you would like to attract. These beautiful poses inside of this booklet are beyond basic and guide you in the direction of your ideal clientele. This PDF Booklet contains 20 luxurious bridal poses that look natural and timeless.
Groom Portrait Poses
This guide will give you 18 masculine groom poses that look dramatic and high-end. Movement is what makes a moment natural, both for photo and video. We have a "SAY" area located on each pose. This guide not only gives you the poses, but it also gives you phrases to say for each pose so you can turn that pose into subtle moment to create natural looking shots every time. Subtle moment also allows you to walk away with more shots to choose from as a result.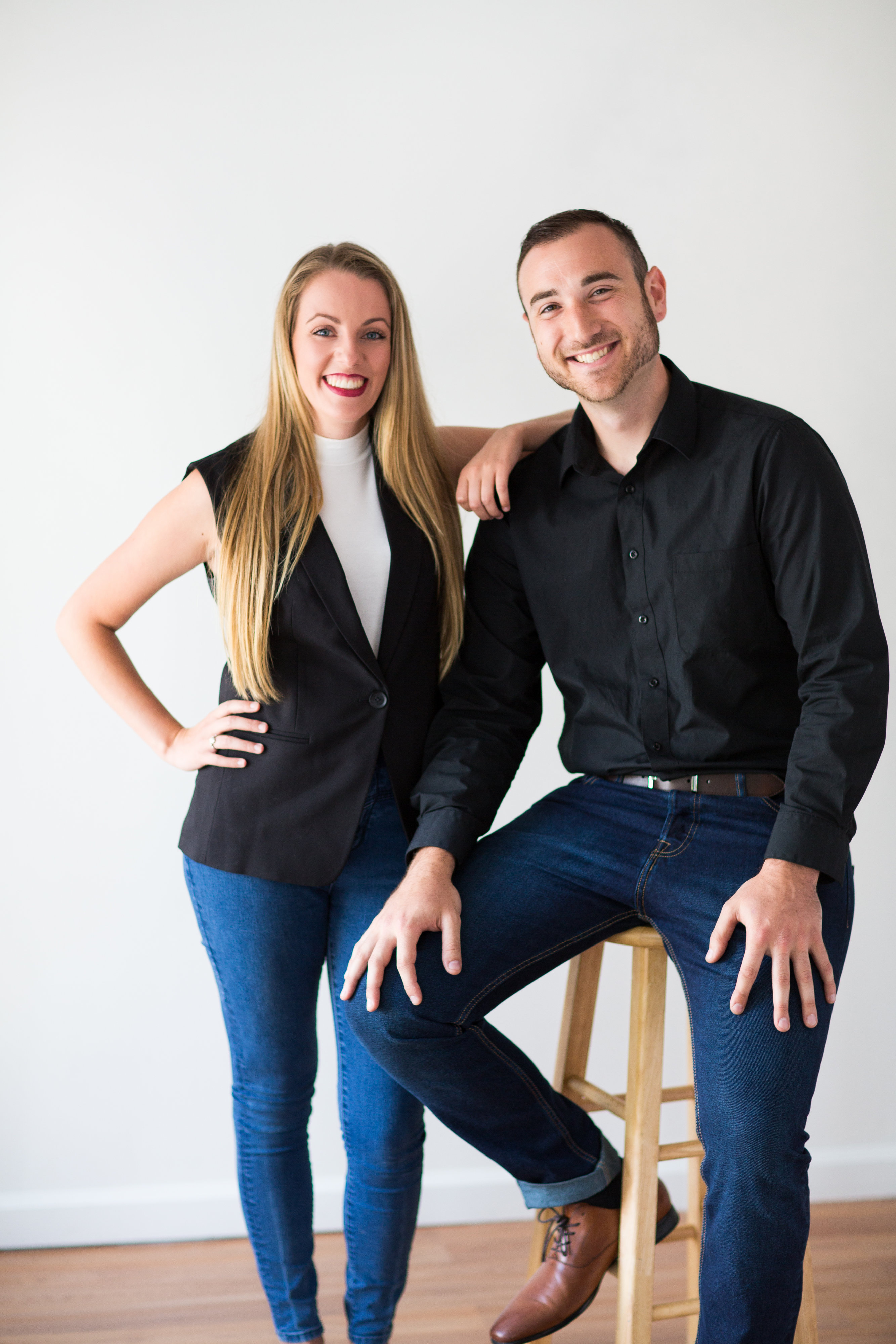 Hi, we are Greg & Dierdra Lorenzo.
We own a video production company based out of New Jersey, USA called "Lorenzo Media Productions". As a husband and wife team, we are proud and humbled to say that we have been in the wedding business for almost a decade, earning a multiple 6 figure income filming weddings. We have a lot of valuable information to share which is why we started our educational brand, "Luxury Filmmaker". Our focus with Luxury Filmmaker is to give Photographers and Videographers the tools needed to thrive in their local markets. We want to create products that take you from average to extraordinary so your work has noticeable value attached to it. Higher paying clients are attracted to work that stands out.